Alex Opoku-Mensah, the Ashanti Regional Director of the National Service Scheme (NSS), has been suspended with immediate effect.
Mr Opoku-Mensah was suspended after storming the Manhyia Hospital in the Ashanti Region and reportedly abusing a nurse who allegedly mistreated his daughter, a doctor at the hospital.
According to an NSS statement, the decision was reached on Wednesday, November 30 after an emergency meeting between the Scheme's management and Mr Opoku-Mensah.
"The management's decision is to enable further inquiry into the alleged verbal attack on a nurse on duty at the Manhyia Government Hospital in Kumasi," the statement said.
Meanwhile, a committee comprised of National Service Scheme, Public Services Commission, and Ministry of Education members has been formed to examine the problem and deliver a report to NSS Management within one month.
On Monday, December 5, 2022, Mr. Opoku-Mensah is scheduled to testify before the Committee.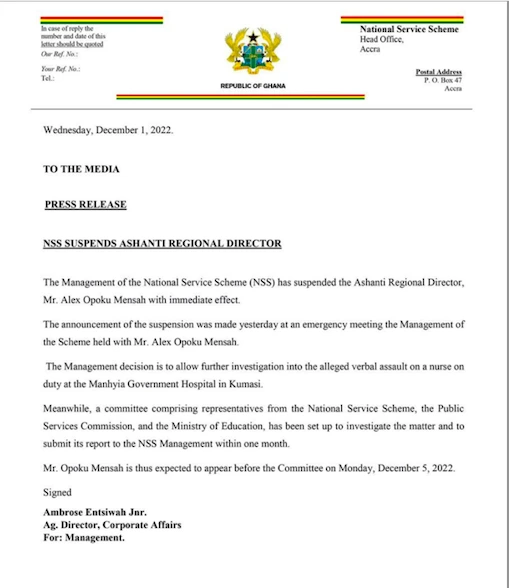 Background
Mr. Opoku-Mensah was caught on tape insulting a nurse who is reported to have had a misunderstanding with his daughter, a doctor at the Manhyia hospital.
He subsequently apologized after his conduct was widely condemned by the majority of Ghanaians on social media.
In a statement on his Facebook page, Mr. Opoku-Mensah said, "I do apologize for any mishap and assure all, there shall not be a repetition of such."
Source: Ghanafeed