Controversial social commentator Linda Osei, a.k.a. Kofios, has taken a swipe at Nana Ama McBrown's husband in a new video.
The inquisitive Kofios did not resist the urge to comment after watching an interview with Nana Ama McBrown.
Kofios broke down a cryptic message as Nana Ama revealed she'd drive Maxwell away from their home if she ever caught him cheating.
She sought to advise Ghanaian men, cautioning them to stay away from women they treat as "Yakubus".
Next, she further engaged her audience with the answer Nana Ama gave to the question about infidelity.
She insinuated Nana Ama's answer to the question indicates that she owns their matrimonial home.
Check out the video of Kofios below.
Netizens were eager to defend Maxwell after seeing the video, referring to him as a rich guy.
Some also agreed with Linda Osei as they admitted there could be an iota of truth in her overreaching comments.
Check out a few of them below.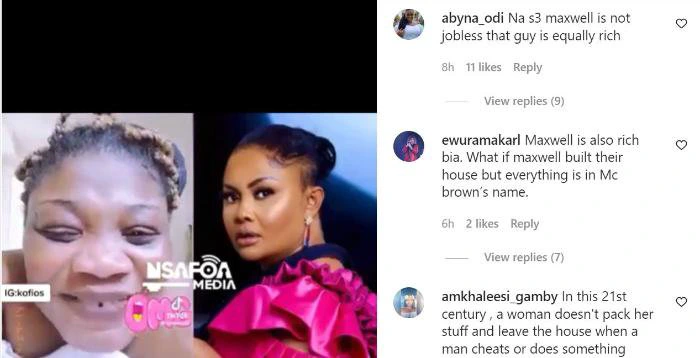 Meanwhile, many believe that the erroneous stories and ongoing talk about Nana Ama McBrown's marriage may cause the pair to misunderstand one another.
There isn't much need for concern, though, as the actress tends to avoid unfounded rumours.