The Auditor General has revealed that the government of Nana Akufo Addo engaged in nepotism and cronyism in 2021. The report captures in page 195 that a colossal amount of 146.6 million Ghana Cedis was invested in three separate companies belonging to the brother in-law of the president. According to the report, the money was taken from the Ghana Infrastructure Investment Fund (GIIF).
Meanwhile these companies had been granted tax exemption to the tune of 23.8 million Dollars within the same period.
As usual this was disclosed by the North Tongu legislator Hon. Samuel Okudjeto Ablakwa on Facebook. He added that the said amount was handed over to Platinum Properties because the owner is a brother to Rebecca Akufo Addo.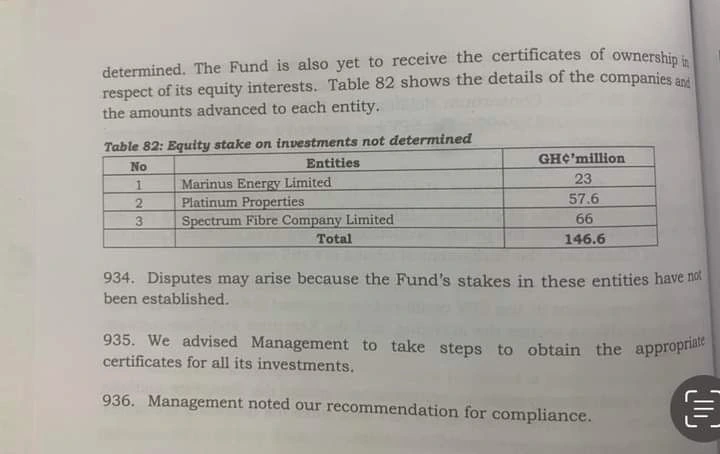 Check the post below.
"It is most depressing to see how the Ghana Infrastructure Investment Fund (GIIF) has been mismanaged under President Akufo-Addo's watch, largely due to naked nepotism.
The fund has been disbursed like confetti under opaque conditions in various sweetheart arrangements.
A whopping GHS146.6million was invested in three companies (Marinus Energy Limited, Platinum Properties and Spectrum Fibre Company Limited) even though GIIF officials admitted to auditors that equity interest in these investments had not been determined, and even more troubling, GIIF has still not secured certificates of ownership in respect of its equity interests.
Interestingly, Platinum Properties was the same company at the receiving end of a bizarre March 2020 tax waiver of US$23.98million (GHS134million at the then prevailing exchange rate) which the NDC Minority in Parliament vehemently opposed.
It should be noted that Platinum Properties is the company behind the controversial Pullman Accra City Hotel and Serviced Apartments project.
The legitimate question many are asking is that would the promoter of the Pullman Accra City Hotel project have received these discriminatory and opaque benefits if he wasn't President Akufo-Addo's dear brother-in-law?
What Ghana needs is a friendly business climate that promotes indigenous enterprise on an even keel without nepotism and insider dealing so all Ghanaian entrepreneurs can flourish regardless of family or political background."
Corruption is becoming a great concern to most Ghanaians. Every year, the auditor general report reveals disturbing figures illegally sinking into private pockets. Unfortunately, not much has been done to recoup the stolen money.
The former auditor general Daniel Dumelovo was the only auditor general who has used his powers effectively by surcharging offenders. But he was ousted from office after he surcharged Yaw Osafo Marfo, the senior minister for 3 million dollars Kroll and Associates contract. All attempts to reverse his removal hit on rocks.